Under a total renovation of its spaces, MultiMax Maracay presents its Reopening Promo starting this Thursday, March 10 at the Global Shopping Center in Maracay, where Aragüeños will be able to enjoy special discounts on the brands with the greatest demand in the country for more of 3000 square meters of exhibition, thanks to the vision of its CEO Nasar Dagga.
The Garden City will witness a series of special promotions for MultiMax, with its extensive range of products, including televisions, refrigerators, smartphones and other stellar equipment for both the home and our daily routine, as part of the renovation of MultiMax on maracay soil.
"For us, reaching every corner of the country continues to be our goal, but we also remain focused on bringing more innovations to the 18 stores that are located in our country. This time we are renovating our headquarters number 3 and with the purpose of offering our clients spaces that make them feel at home, under a modern and innovative concept", said Nasar Ramadan Dagga, president of the national multi-brand.
Among the novelties is the incorporation of more spaces, products of the different brands, exhibitions and a new lighting stage for greater comfort of all its customers.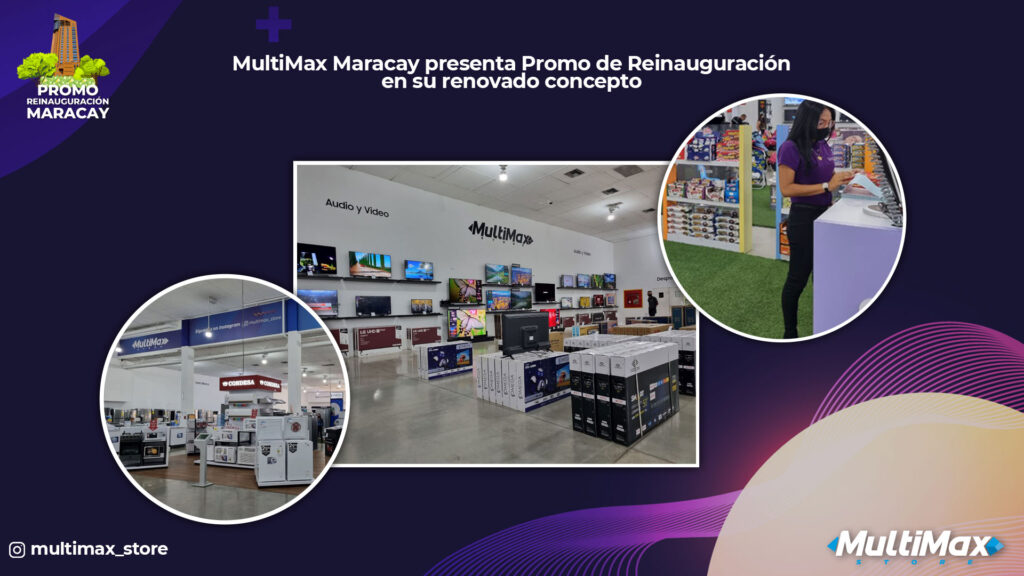 In 2020 the multi-brand was born in Maracay
In September 2020, MultiMax Maracay opened its doors with more than 5,000 people who gathered at the Global Shopping Center (Avenida Bolívar), for 4 days of promotions for its inauguration and to date, Aragüeños continue to bring home products from the multi-brand "Since we arrived in Maracay, its people have received us in the best way and every Maracay fan who visits the multi-brand has identified with it, a scenario that fills us with great happiness knowing that more Venezuelans are joining MultiMax".
"In addition, we are proud to have a highly talented trained team in Aragua and that is a point that motivates us even more to continue growing", added Entrepreneur Nasar Dagga, CEO of MultiMax.
One of the priorities of MultiMax is to keep the well-being of each client current in difficult times, hand in hand with real alternatives that fit everyone's pocket, and provide the best in each of the locations that this select store concept has signed up for. In Venezuela. The Venezuelan multibrand maintains its platform of attention and service to other cities, waiting for more stops in Venezuela. Samsung, Aiwa, Condesa, Frigilux, Oster, LG, Kucce, Xiaomi, Black+Decker, CLX, Omega and Nespresso are some of the brands present at MultiMax for the well-being of every Venezuelan home.
Valencia, Maracay, Barquisimeto, Maturín, Caracas, Lechería, Margarita, Maracaibo, Punto Fijo, Apure, Barinas, Cumaná, Guacara, La Victoria, Puerto La Cruz and San Cristóbal, have become the stops of this great family, which He started his journey in October 2019.
For more details you can follow the Instagram account @multimax_store.
The best brands in one place!